The 2016 Gathering will be held July 6-10 at the Holiday Inn Express in Wilkesboro NC.
Call the hotel at 336-838-1800 and ask for the Dobro Festival rate of $87 to reserve your room.

Contact Pammy Davis at 336.202.1536 for details and to pre-order tee shirts. (See design at left for the 2015 ResoGat tee shirt artwork). To get on the correspondence list send an email to pammydavis @ triad.rr.com

Who are we? We are a loosely knit group of individuals drawn together out of love or fascination of the dobro, or resonator guitar. Invented and developed in the late 1920's and early 30's, the Dopyera brothers presented America and the world with a totally unique instrument centered around a mechanical resonating sound or amplification system. The brothers tossed around the question of what to call this new class of stringed instruments and finally coined the term 'Dobro' which was a combination of the words
Do
pyera and
Bro
thers. "Resonator Guitar" is more commonly used now for non-Gibson/Dobro branded guitars. ResoGat is the gathering of Dobro/Resonator guitar enthusiasts to talk, play music, laugh, meet old friends and make new friends.
We want to say a special thank-you to this year's sponsors and exhibitors. Three of them are shown above. The majority of the others have never attended the gathering but didn't hesitate to help us out when asked. Please show your gratitude to them and let them know how much you appreciate their contribution. They are listed on the website's
2013 Sponsors & Exhibitors
.
2013 Exhibitors & Luthiers
Last update: 13 July, 2015



Be sure to support the folks that help make ResoGat possible: Our 2015 sponsors

Hope to see everyone in Wilkesboro in
July of 2016
!

Click on photo to enlarge

L-R: Pete Mosco, J.P. Johnson, Dick DeNeve

Click here

to see video from the 2011 ResoGat

Tour of exhibitors showroom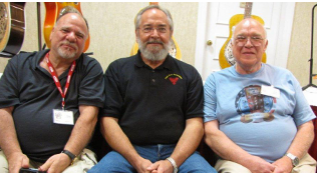 Dick Blattenberger honored in 2014

Dick been a one man PR man for the Dobro in the Northeast for over fifty years, as well as mentor, teacher, and all around inspiration. Dick is a gifted artist on more than just Dobro.

He designed the art work for the 2013 Resonator Guitar gathering in Wilkesboro, NC. It is with great pleasure that we honor Dick this year.

It has a Foreword by Jerry Douglas and is a 216 page, full color, hard cover book published by Centerstream/Hal Leonard Publishing. It is the first and most definitive work devoted solely to the Dobro guitars produced by the Dopyera Brothers including John Dopyera, the inventor, during the initial years of production from 1929 to 1941. It includes original, high quality, full color photos of most of the Dobro Models made during this period with historical background on the Dobro, the instrument that has become such a large part of Bluegrass Music and other musical styles of today. It includes a CD with 15 tunes played by Steve on 15 different prewar Dobros to give an example of the varied sounds of the prewar instruments. The book is available at Barnes & Noble and other book and music stores throughout the world as well as Amazon.com and many other web dealers. Or you can contact Steve at 760-536-9573 in San Diego, CA or sf.toth@roadrunner.com for info on getting an autographed copy directly from the author.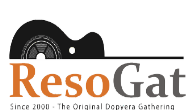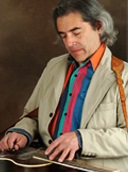 Stacy Phillips honored in 2015
Stacy Phillips is a self-taught, internationally acclaimed resonator guitarist and violin player. He has performed with Mark O'Connor, Bela Fleck, Leon Redbone, Judy Collins, and many other top acoustic musicians in the world. Stacy has three solo albums and is featured artist on the Grammy award-winning album The Great Dobro Sessions. He has been called " one of the hottest pickers around" (Guitar Player magazine), " a totally fluid, totally present practitioner of American roots musics " (The Klezmer Shack), an "outrageously delightful dobro

player" (Bluegrass Unlimited), and " a resonator guitar virtuoso. . .stretching the stylistic limits of his instrument" (Dirty Linen magazine). Stacy is the author of more than 25 books and DVD's on various aspects of his chosen instruments, including "The Complete Dobro Player", "Dobro Techniques and Repertoire" dvd series, and "The Art of Hawaiian Steel Guitar". They are seen in the music rooms of the world's best string players. Visit his web site at:
www.stacyphillips.com